I have owned a few wireless routers so far. I know everyone always buy's the Lynksys routers and I have had a few of them too but recently I bought an ASUS 3 in 1 N300 wireless router. (RT-N12HP_B1 model) Let me tell you about my experience and my recommendation.
What is a high power router?
The one I bought is a high power router. I needed something with a longer range. High power means the antennas are a bit longer than the usual and the router projects signal further. We have rock walls and the signal struggles to get through, so the high power antennas helps to project the signal through the rock walls.
What does 3 in 1 mean?
This particular ASUS router has three modes.
Router mode, Repeater mode and Access Point Mode.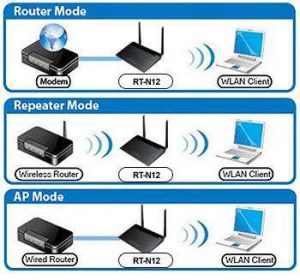 I find that using a three in one router is more beneficial as our environment and our internet needs may change from time to time. Instead of having a single mode router this one can give you three different ways of accessing the internet by either connecting directly through your modem or by connecting wireless and therefore extending the range of your internet or network further and stronger.
As the picture shows you can see that Router mode means the Ethernet Cable or your modem connects to the router and your devices connects to the internet by connecting wirelessly to the router.
Repeater mode means the router connects to your existing router wireless and then broadcasts the signal to your devices. This helps improve or extend the signal throughout your environment.
Access Point mode means your router is connected through a wire to your existing router and then broadcasting signal to your devices. This is useful if you need to extend your network to another building for example.
Really Easy setup
I was surprised by the easy setup. I am in no way an expert when it comes to networks and I was really not feeling up to even trying to get this thing to work. I have always had someone with more knowledge help me get the routers connected. So I was pleasantly surprised at how easy the setup was. Even I could do it!
I downloaded the ASUS router App on my phone, plugged the Ethernet Cable into the router, switched it on and followed the on screen instruction from my phone. It was very easy. When you need to set your router up for straight Router mode you do not need any other help other that the ASUS app.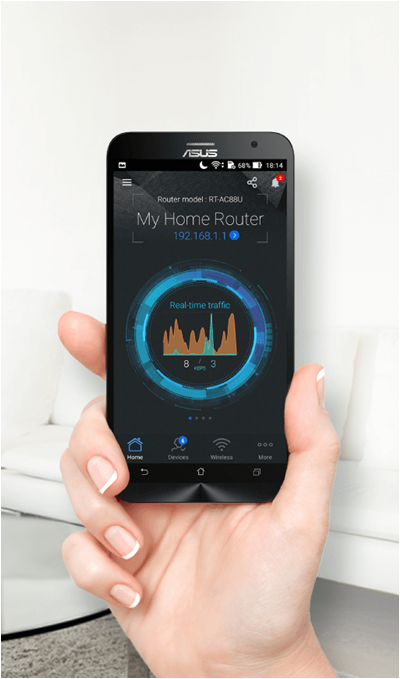 I however needed to set up my router as an Access Point. Therefore, I found the web interface easier to use.
I used the ASUS app to find the IP address of the router and then I typed the IP into my web browser to access the web interface. In my case my router IP address was 192.168.0.01.
As in the image you can see what the web interface looks like. I was able to set up the AP mode by just following the onscreen instructions.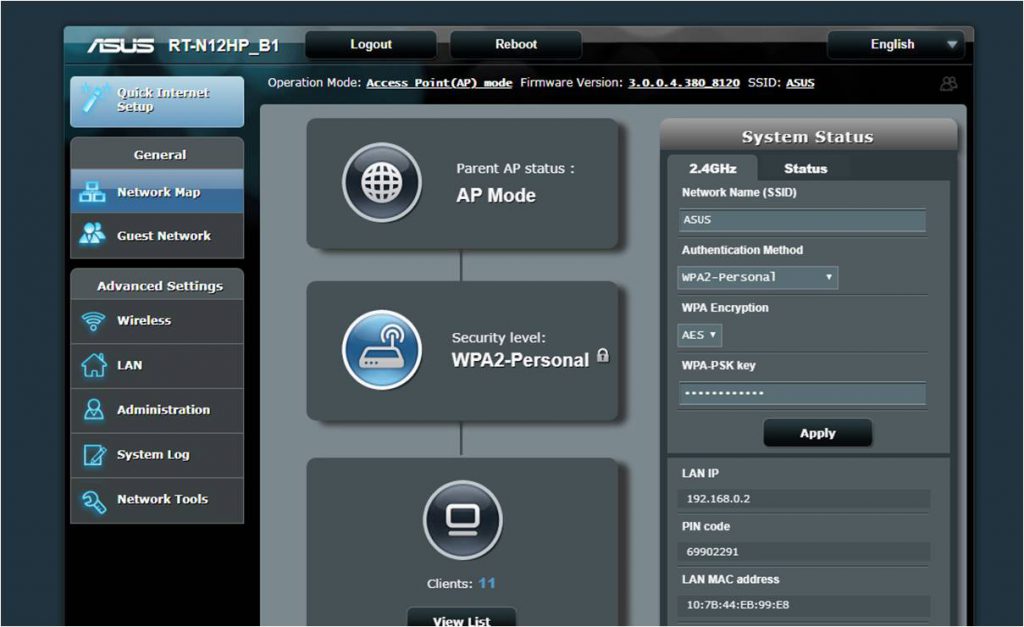 This is what the ASUS app allows you to control
Gives you easy setup
You are able to keep an eye on both your network traffic and your connected devices anywhere and at any time .
Manage internet activity – Take full command of your network by controlling who can access the internet, and allocating the bandwidth for each device. You're even able to manage how your kids use the internet, and prevent unauthorized users from hogging network resources.
Create temporary WiFi access for your guests without sharing your password.
The App helps diagnose your security settings by scanning for

Password Strength
Infected Device Prevention

Vulnerability Protection

Malicious Site Blocking


Maximize bandwidth to gaming devices for optimal performance
My recommendation:
Based on my experience with this router I will definitely recommend the ASUS wireless router. I was impressed by how easy it was to use. So far the router has been up and running for 3 months and I only rebooted it once in that time. I think it is a very reliable router and the range I get out of it is very good. The Asus routers are also very cheap compared to other brands. This particular one which I bought was just $30 from Amazon. Feel free to look for other ASUS wireless routers and modems.  Below is a list of models who all supports the easy to use ASUS App. Amazon stocks quite a few ASUS routers.
Other router models which supports the ASUS router App
RT-ACRH13, RT-AC1200, RT-AC1200HP, RT-AC1200G, RT-AC1200G+, RT-AC55U, RT-AC55UHP, RT-AC53, RT-AC53U, RT-AC52U, RT-AC52U B1, RT-AC51U, RT-AC51U+
N WiFi Routers
RT-N66U, RT-N66W, RT-N18U, RT-N16, RT-N12E B1, RT-N12E C1, RT-N12HP B1, RT-N12+ B1, RT-N12+, RT-N12 D1, RT-N11P B1, RT-N11P
DSL Modem Routers
DSL-AC68U, DSL-AC68R, DSL-AC56U, DSL-AC55U, DSL-AC750, DSL-AC52U, DSL-N55U D1, DSL-N55U Annex A, DSL-N55U Annex B, DSL-AC51, DSL-N17U, DSL-N16, DSL-N14U B1, DSL-N14U, DSL-N12U D1, DSL-N12U_C1, DSL-N12E_C1, DSL-N12E_C1 with 5dBi antenna, DSL-N10_C1, DSL-N10_C1 with 5dBi antenna